Author:
tracysigler
|
Posted:
December 25th, 2005 | |
Tags:
1988
,
metal
,
music
,
Robert Williams
,
SGM
,
thrash
,
vinyl
|
28 Comments »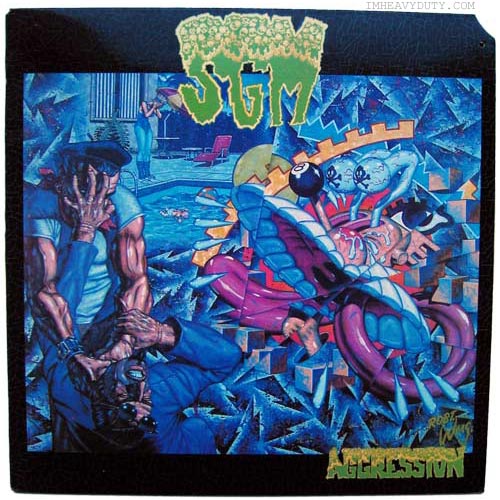 Artist: SGM
Title: Aggression
Year: 1988
Format: Vinyl 12 in.
Rating (1-10): 1
Owner: Tracy
Acquired: 1988 – We got this as a promo at our store RIP Records in Norfolk, VA.
Keeper: No
Updated November 14, 2006
SGM, not to be confused with the prog-metal band Sleepytime Gorilla Museum. The latter makes some pretty interesting and sophisticated music. This album is so bad I considered not even documenting it. The only thing that changed my mind is that the cover art is a painting by Robert Williams. This is a lame metal/punk "crossover" album with moronic lyrics.
For another opinion on SGM's Aggression see this interview at the metal site RockEzine.net. An excerpt is below:
What is the most embarrassing album in your own private album collection. (How/why did you get it?)
It is an LP of SGM called aggression. I think I heard it just once! I bought it by mailorder because of the description of the music style. So, this is a good example for listen to the music before buying it. I never had disappointment like that again.
---