Author:
tracysigler
|
Posted:
October 8th, 2007 | |
Tags:
2007
,
art rock
,
metal
,
nu metal
,
Serj Tankian
,
System of a Down
|
1 Comment »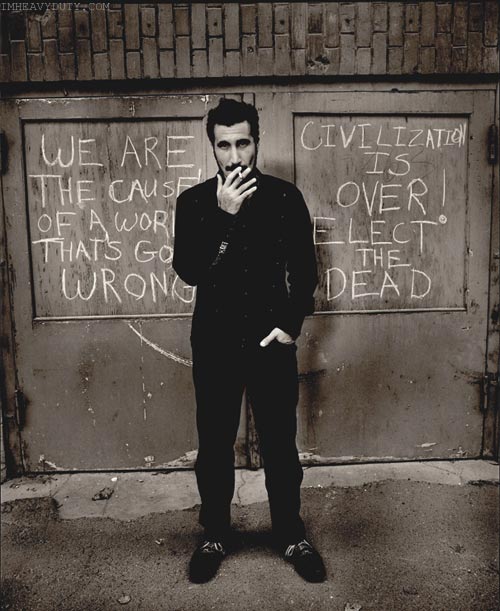 New Music Monday on W-I-H-Deeeeee… Make up your own jingle.
Thanks to Steven for the tip on this one. Serj Tankian (System of a Down) has a new solo record, Elect the Dead, coming out October 23. The first single and video is "Empty Walls." It's heavy thematically and musically, but maybe a tad smoother than SOAD. Tankian's voice is so distinctive and immediately recognizable that I'm sure most folks will assume it's SOAD. But those folks would be wrong. Apparently the band members are on hiatus while they pursue other projects. I'm a long time fan of the band. If "Empty Walls" is any indication of what the music from these solo projects is going to be like I think fans have a lot to be excited about.
Serj Tankian — "Empty Walls" video
And if you just can't enough of that Serj stuff, check out the next video. It's a whopping, and humorous, nine minutes of Tankian interviewing himself, with cuts from his home studio. There are several characters in the video and they all look familiar.

---