Author:
tracysigler
|
Posted:
April 30th, 2008 | |
Tags:
1969
,
blues rock
,
folk rock
,
hard rock
,
heavy metal
,
Led Zeppelin
,
music
,
vinyl
|
1 Comment »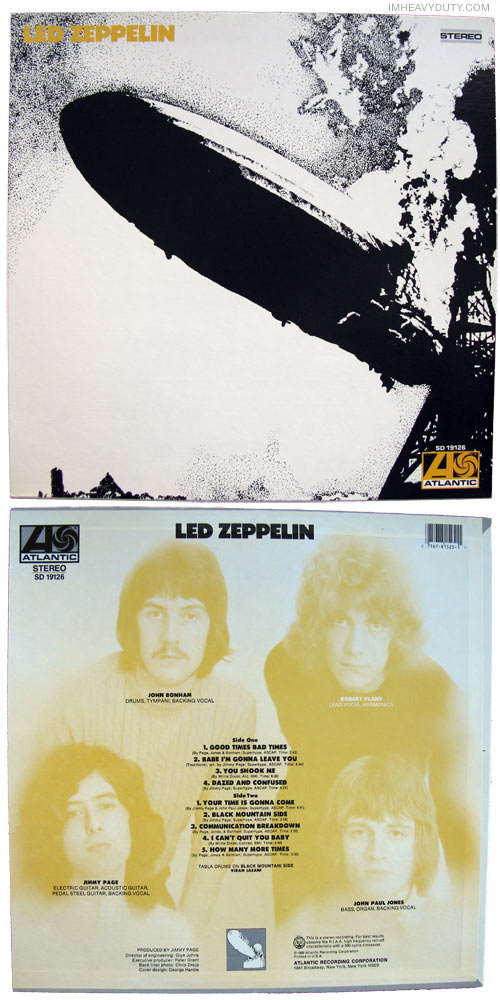 Long time no listen. "Good Times Bad Times," the first song on the first Led Zeppelin album, is probably my favorite of all their music. When I see how young the guys look on the back it's even more impressive how out there this record is. Another favorite is "Communication Breakdown." It's more punk than the punk music that would come along almost a decade later. I liked it so much as a punk rock teenager that I recorded my own cover of it on my Tascam Porta One cassette four track. I played all the tracks and did a good job on drums and bass. My guitar work was not uh… scintillating. And I'm pretty sure the vocals were an octave lower out of genetic necessity.
Note on the back cover:
This is a stereo recording. For best results observe the R.I.A.A. high frequency roll-off characteristic with a 500 cycle crossover.
But of course.
More about Led Zeppelin at Wikipedia
---