Author:
tracysigler
|
Posted:
August 1st, 2012 | |
Tags:
business idea
,
french toast
,
restaurant
,
what the french toast
|
No Comments »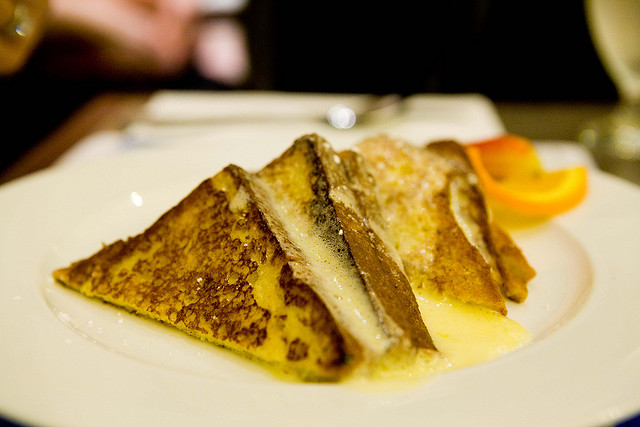 Image by pudgeefeet
On almost every long road trip I get an idea. I think that's because I don't listen to music much and prefer to talk or think. On a recent ride back to Asheville Mary and I came up with an idea for a restaurant.
French Toast – nothing else.
No Belgian waffles, pancakes, omelettes, etc. All French toast all the time.
I think a French toast-only restaurant would kill it in any tourist-oriented city, or otherwise large urban environment. Who doesn't like French toast? Everyone I've mentioned this to got excited about it. And I learned a lot from my more sophisticated foodie friends about the wide variety of French toast options.
Suffice it to say the ingredients would be a big deal. Artisanal breads, fillings, and toppings. Local, organic, unusual, and so on.
But here's what may be the best part – the name. It could only be this:
"What the French, Toast?"
If you haven't heard that expression then get with it. The cool kids know what I'm talking about. I'm all but certain it came from the Orbit chewing gum ad campaign circa 2008.
The gist of that campaign is that "Orbit cleans a dirty mouth." So when the actors are "cursing" they are actually saying lines like "You Hoboken!" and "What the French, toast?!?" I haven't met a 20-something yet that didn't know this phrase. In fact, someone already got it as username on Facebook.
But in some sort of Internet miracle I was able to secure the domain name WhatTheFrenchToast.com. Believe it. At the moment it just directs to my marketing agency, but someday…
Walking around downtown Asheville this weekend I couldn't help scouting for locations. Maybe near the new W hotel? Where else are those visitors going to get the best French toast?
P.S. We kicked off the weekend with some great French toast by Mary, classic style. If you have any favorite recipes to share please do.
---