Author:
tracysigler
|
Posted:
November 8th, 2012 | |
Tags:
decision making
,
Ford Escape
,
Subaru Outback
,
Toyota RAV4
,
Toyota Venza
,
Volkswagen Jetta Sportwagen TDI
|
2 Comments »
There are few people who are more emotional about cars than me. Mere pictures in books and magazines have caused me to tear up. Go ahead, laugh. Love is never wrong!
But there is a time when emotion needs to take a backseat to reason. Hot rods, Mustangs, Ferraris, and anything vintage are bought only for emotional reasons. And there's nothing wrong with that. But this post is about deciding which car best meets your everyday needs.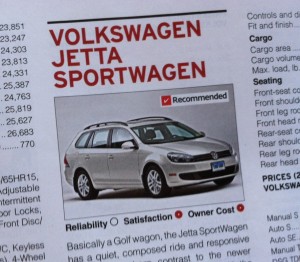 It's been a good while since we bought a new car and there is so much to choose from that it was a little overwhelming. After a lot of reading we scratched off many cars that at first seemed reasonable. Crap mileage? Gone. It's too easy to make decent power AND good MPG nowadays to not hold out for both.
We eventually got it down to the five cars below. Then visited the dealers to test drive each. I told them to give me the most swank version they had, one with all the options, so each car could have a fair shot at the title. Mary and I took turns in each car and compared notes at home.
To the whiteboard! We used the ratings in Consumer Reports for some of the buying criteria, added some ratings and rankings of our own, and put it all in a matrix to come up with a score. Sounds complicated but it took less time to do than explain.
Using Consumer Reports' familiar rating system of red balls (better than average) and black balls (worse than average) we scored each car 5 points for the best rating and on down to 1 for the black ball. Then for some things that were important to us, sun/moon roof , back seat room, MPG, warranty and price we rank ordered the cars as best we could with 5 going to the winner. It looks like this.
| | | | | | |
| --- | --- | --- | --- | --- | --- |
| | Volkwagen Jetta Sportwagen TDI | Toyoat RAV4 | Toyota Venza | Subaru Outback | Ford Escape |
| Reliability | 3 | 5 | 4 | 4 | 3 |
| Satisfaction | 5 | 3 | 3 | 4 | 3 |
| Owner Cost | 5 | 4 | 3 | 4 | 4 |
| Price | 4 | 5 | 1 | 2 | 3 |
| MPG | 5 | 3 | 2 | 1 | 4 |
| Moon Roof / Rack | 4 | 2 | 1 | 3 | 5 |
| Roomy Backseat | 1 | 3 | 5 | 4 | 2 |
| Warranty / Maintenance Package | 5 | 3 | 3 | 1 | 1 |
| Storage | 2 | 5 | 3 | 4 | 1 |
| SCORE | 34 | 33 | 25 | 27 | 26 |
When we started this search we were pretty certain we would not be getting another Volkswagen. But we do like station wagons. (Big dog.) To our surprise it was the numerical winner. So we sacrificed backseat room but the mileage is off the chart. We decided to get the TDI version of the Sportwagen. Oh, and we wanted it in red with a black interior. Turned out that is almost a rare combo. Who wants a beige interior? Anyhow, the dealer got someone to drive one matching our order to Asheville from Atlanta. We've had it almost a month and it's been on some road trips already. Thumbs up.
Here's a quick take on each of the cars in the matrix.
Volkswagen Jetta Sportwagen TDI
Not as roomy as our Passat but the massive sun roof helps with how it feels. Seriously, driving at night with the stars and street lights shining in, or watching the rain come down is just a little special. Not huge power, but gobs of torque. Turbo kicks in fast when you ask for it. On road trips we've gotten close to 50 MPG. What?
Toyota RAV4
Arguably a better choice in some respects, but we like the styling less. This is a lot of car for the money.
Toyota Venza
Looks great on paper, like a big Hot Wheels car or something. But when you get inside it feels like a minivan, bleh. On top of that, every time I see one on the road it's being driven by a retiree. Crap mileage also. I really thought I wanted this until we drove one. Huge sun roof BUT, and this is a killer, you can't get a factory roof rack with this option. Huh?
Subaru Outback
In my opinion these have gotten uglier with the latest design. Still, you see them everywhere and they are "Recommended" by Consumer Reports. (All these cars but the Escape are.) There are some impressive features. but the engine noise is crazy, and it's a pig. Slow to accelerate without good MPG. 0-60 mph in 10.7 seconds?!?
Ford Escape
The Escape is definitely feature-rich. I think Motor Trend picked it as the winner in a recent small SUV shoot out. But I ain't feeling it. Feels small inside even though it isn't. Consumer Reports didn't have ratings for Reliability and Satisfaction because this year's model in completely new. We gave it "average" scores in the matrix. Great sun roof. I just didn't enjoy driving it.
There it is. Don't be afraid to be reasonable, sometimes. The answers are in the matrix.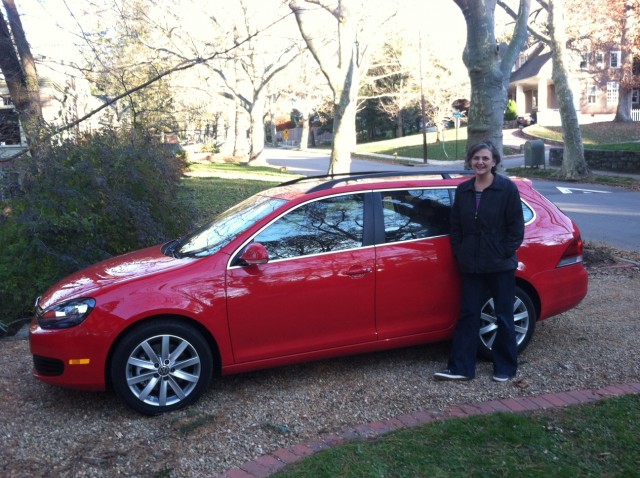 ---