Author:
tracysigler
|
Posted:
December 19th, 2013 | |
Tags:
Christmas
,
Christmas card
,
diorama
|
No Comments »
In 2012 we couldn't get a card done in time. Our dog had just died and Paris was away at college. The motivation and planning didn't come together. But this year we're back! Mary had the idea of a diorama and we decided to make one of our house decorated for Christmas.
Roof – We cut up some extra shingles from the new roof we got this year.
Bricks – We took photos of the different bricks, printed them life size, and cut them up.
Windows – Mary cut out the windows and trim, using colors similar to the house. We tried to keep the whole thing slightly cartoonish and handmade-looking.
Bushes – Those are made of leaves from the actual holly bushes we have. Dangerous work hot gluing those together!
Christmas tree – My grandmother made that ceramic tree a long time ago.
Wreath and "lights" – Mary strung up some beads to make lights and made the wreath from green pipe cleaners.
Gravel – Straight from the driveway. Not exactly correct but a lot easier than making grass and a sidewalk.
Finally, each family member made his or her "self."
We started with a piece of foam core cut out for the house and glued the bricks and other parts to it. Then we backed with a piece of drywall also cut to the shape. Then put the whole thing on a large square of drywall so we could light it from behind and have the Christmas tree "inside." We put pieces of colored paper behind the windows to create the appearance of rooms. The photos below show the set up.
As usual, these cards end up being a lot more work than we expect. But I don't regret one minute spent working with my family to make something for ourselves, and other family and friends.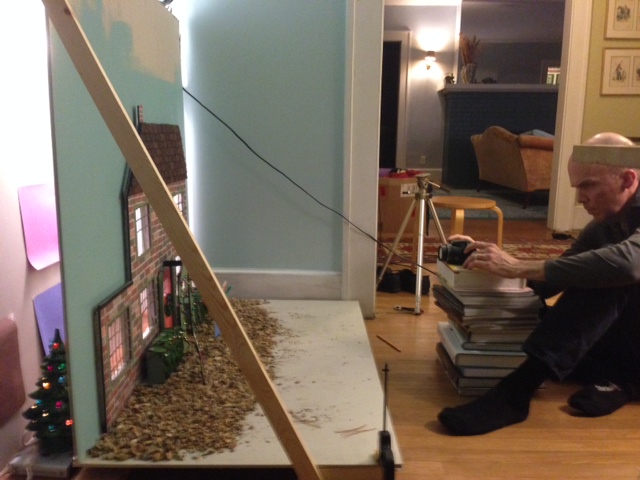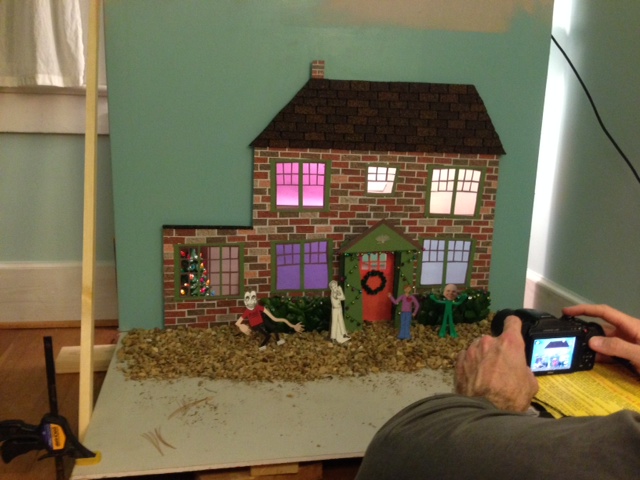 ---