Author:
tracysigler
|
Posted:
July 15th, 2008 | |
Tags:
1984
,
heavy metal
,
Judas Priest
,
music
,
vinyl
|
2 Comments »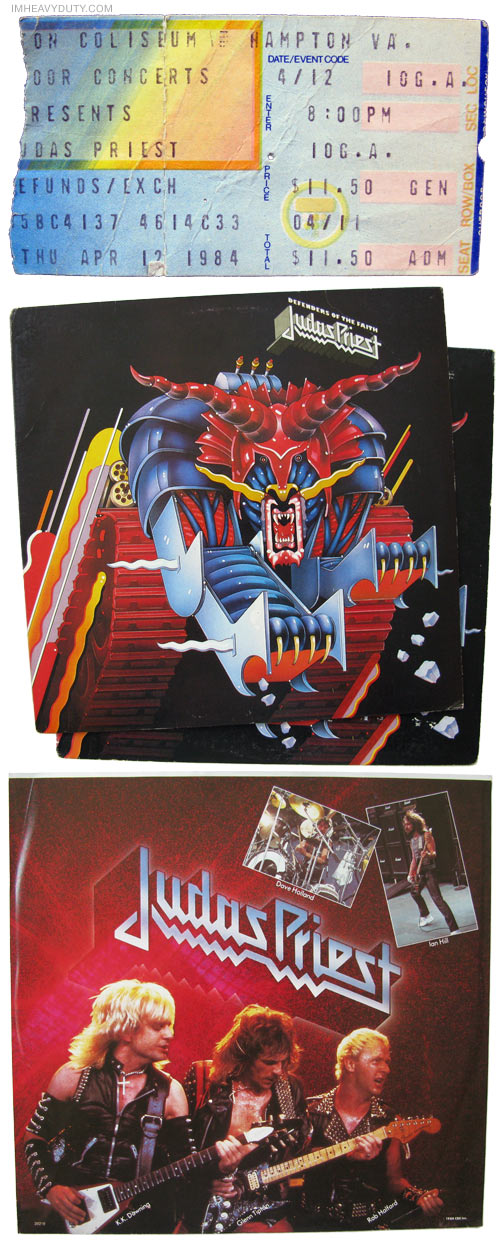 Yes! Today we celebrate. I'm celebrating because Mary and I got a new site up today for Heavy Duty Incorporated at WeAreHeavyDuty.com, our art and home furnishings business. To celebrate I'm finally posting Judas Priest's Defenders of the Faith.
This album contains a song that has become my heavy metal mantra, "Heavy Duty." The song contains the lyrics "I'm Heavy Duty" in the first chorus and "We're Heavy Duty" in the last one. The first line I mentioned is, of course, the namesake of this web site. You can read more about why I chose that name. "We're Heavy Duty" happens to be the URL for Heavy Duty Incorporated. "Heavy Duty" is simple metal dirge with some silly metal lyrics, but it never fails to give me a boost when I most need it. I play it all the time, and I have two copies, just in case. Just in case.
Another sentimental reason I love this record is that on April 12, 1984, the night before final exams in my senior year of high school, Roger Williams and I went to see Judas Priest live at the Hampton Coliseum. Roger is/was sort of an intellectual metalhead. If I remember correctly, he was valedictorian of his class and went on to Notre Dame. We lost touch after high school, which is unfortunate for him because I'm pretty sure one of those albums in the picture in his. Sorry Roj. Contact me to negotiate visitation rights.
The show was fantastic in a completely over the top heavy metal way. The "Metallian" creature on the cover was the actual stage, with the drums inside the mouth and a huge mechanical arm that lowered to allow Rob Halford to walk out. At least that's how I remember it. Halford also rode a Harley onto the stage at one point. The whole band played perfectly was locked into the driving grooves that made this middle period Priest music so great.
Some of the other great songs on Defenders are "Freewheel Burning" and "Some Heads are Gonna Roll." While overall the lyrics are the usual tough guy silliness you would expect there are more than a few corny-but-inspiring metal moments like this from "Rock Hard Ride Free":
No denying, we're going against the grain
So defiant they'll never put us down
Rock Hard Ride Free
All day, all night
Rock Hard Ride Free
All your life
But my favorite, of course, comes from "Heavy Duty."
We're Heavy Duty
So come on let's tell the world
We are defenders of the faith…
---