Author:
tracysigler
|
Posted:
October 30th, 2008 | |
Tags:
1986
,
funk
,
George Clinton
,
music
,
R&B
,
vinyl
|
3 Comments »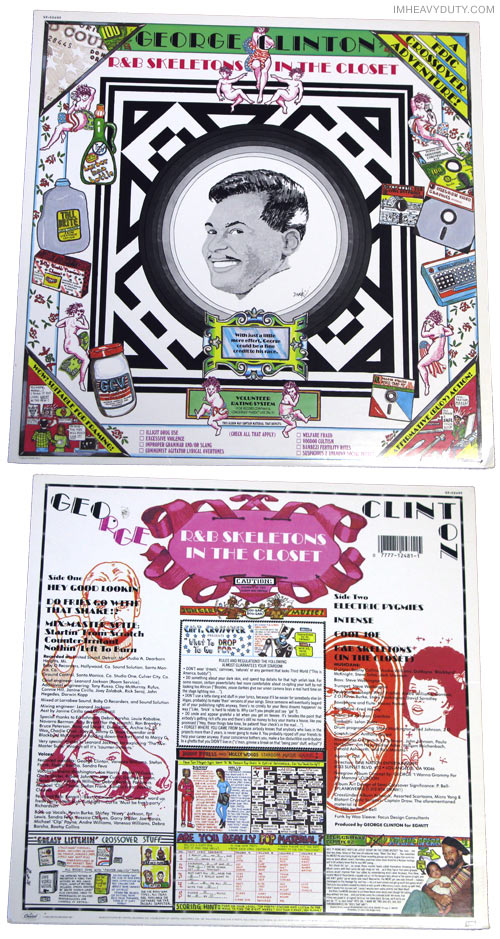 All the ingredients, and the players, Bootsy Collins, Maceo Parker, McKnight, Shider, and more are here, but R&B Skeletons in the Closet (1986) is not the most vital piece of George Clinton's body of work. Some of songs are perfect and some are down right grating. The two I like the most are "Hey Good Lookin" and the semi-hit "Do Fries Go With That Shake!?"
The album cover art alone is worth the price. I wish you could see it better, but I'm feeling too lazy for detail shots. In a nutshell the whole thing is a commentary on black artists that sell out to "cross over."
Check out his "ObamaNation" at MySpace. It reminds of that blast from the past: "Paint the White House Black." Look how many celebs are in this video!

I got to see Mr. Clinton, George that is, live somewhere between this album and that video. Maybe I'll dig out the t-shirt I got and post that later.
Read more about George Clinton's R&B Skeletons in the Closet at Wikipedia

---