Author:
tracysigler
|
Posted:
May 1st, 2008 | |
Tags:
2000
,
alternative
,
art rock
,
electronic
,
experimental
,
music
,
Radiohead
,
vinyl
|
No Comments »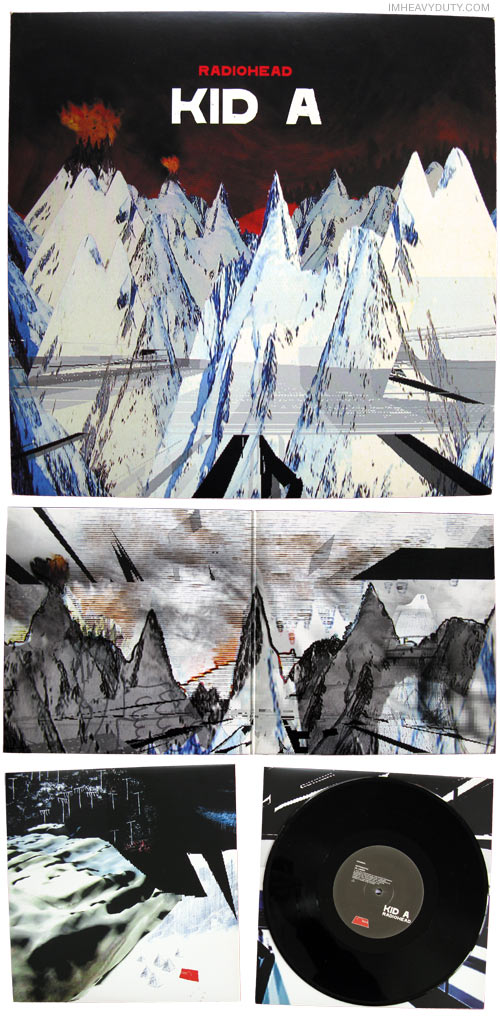 Radiohead fans raise your hands. I guess I'm a fan, but it's an intermittent relationship at best. Maybe you hard core folks can comment on what makes Radiohead so great. I bought their first album, Pablo Honey when it first came out, and let's be honest, it was pretty inconsistent. Unfortunately, that stuck with me and I missed out for a while when they started making great music.
Kid A actually won a Grammy for Best Alternative Album and was nominated for Album of the Year. This version is an appropriately arty package for an increasingly experimental band. It's a gatefold double LP, on vinyl of course, but records are 10 inchers, not 12. All sides of the gatefold and liners are covered with art by Stanley Donwood and singer Thom Yorke.
I like Kid A, but it's not something I'll play often. The overall vibe is like a Pink Floyd album, not really my thing. I thought maybe I was crazy, or maybe just old, for thinking that, but I've read the comparison elsewhere.
---