Author:
tracysigler
|
Posted:
April 16th, 2008 | |
Tags:
1988
,
alternative
,
CD
,
hard rock
,
Jane's Addiction
,
music
|
No Comments »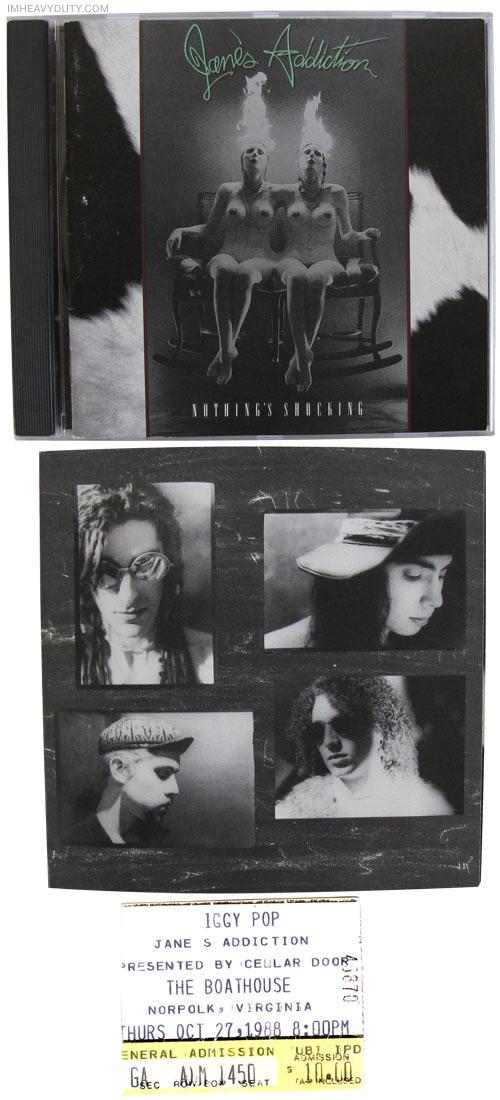 "This album is 20 years old! That's craz-"
"You're 41 years old. You forget that."
Thanks for the reminder, Mary. It still sounds fresh! That's why it's hard to believe it's this old, not because I'm senile.
Who doesn't love this record? If you bought it right when it was released you were probably a hipster, maybe you still are, even in your 40s. That's because this was the major label debut for Jane's Addiction and pretty much only fans of their first record were waiting for it to hit. At the time my brother and I had record store and a number of our regulars were excited to get their hands on Nothing's Shocking. I know I was, being a hipster and all. The album opening pretty ditty "Up the Beach" was the perfect spacey, ethereal set up for the flat out rocking "Ocean Size" that followed it. The rest of the album is just as good, and of course it also contains what I suppose was their biggest hit, the studio version of "Jane Says."
And check out that ticket stub. I got to see Jane's Addiction a couple months later, with Iggy freakin' Pop(!) for a whopping ten bucks. Yeah, I remember that too. It was a great show and the crowd was definitely there for both bands. Navarro's shredding was even more impressive in person. No rock star silliness, just full on rocking. And it was good. Amen.
Nothing's Shocking at Wikipedia
Wish I was ocean size
They cannot move you
No one tries
No one pulls you
Out from your hole
Like a tooth aching in a jawbone
---