Author:
tracysigler
|
Posted:
November 8th, 2012 | |
Tags:
decision making
,
Ford Escape
,
Subaru Outback
,
Toyota RAV4
,
Toyota Venza
,
Volkswagen Jetta Sportwagen TDI
|
2 Comments »
There are few people who are more emotional about cars than me. Mere pictures in books and magazines have caused me to tear up. Go ahead, laugh. Love is never wrong!
But there is a time when emotion needs to take a backseat to reason. Hot rods, Mustangs, Ferraris, and anything vintage are bought only for emotional reasons. And there's nothing wrong with that. But this post is about deciding which car best meets your everyday needs.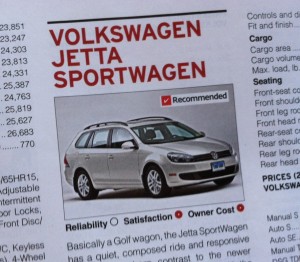 It's been a good while since we bought a new car and there is so much to choose from that it was a little overwhelming. After a lot of reading we scratched off many cars that at first seemed reasonable. Crap mileage? Gone. It's too easy to make decent power AND good MPG nowadays to not hold out for both.
We eventually got it down to the five cars below. Then visited the dealers to test drive each. I told them to give me the most swank version they had, one with all the options, so each car could have a fair shot at the title. Mary and I took turns in each car and compared notes at home.
To the whiteboard! We used the ratings in Consumer Reports for some of the buying criteria, added some ratings and rankings of our own, and put it all in a matrix to come up with a score. Sounds complicated but it took less time to do than explain.
Using Consumer Reports' familiar rating system of red balls (better than average) and black balls (worse than average) we scored each car 5 points for the best rating and on down to 1 for the black ball. Then for some things that were important to us, sun/moon roof , back seat room, MPG, warranty and price we rank ordered the cars as best we could with 5 going to the winner. It looks like this. Read the rest of this entry »
---