Author:
tracysigler
|
Posted:
March 3rd, 2016 | |
13 Comments »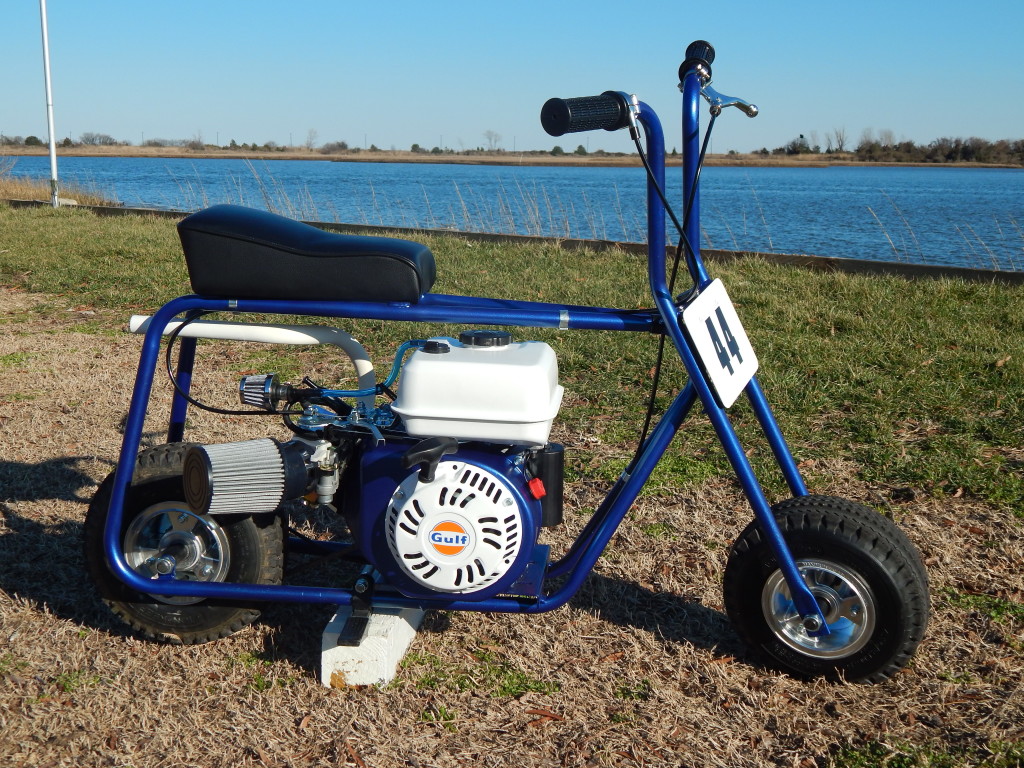 I built this mini bike using an Azusa kit and a Predator 212 engine. I don't think I'll ever buy another Azusa frame set. As someone who used to weld and fabricate for a living I think I can objectively say that the build quality on the frame is not great. Sure, the welds are strong and I have no concerns about it breaking. But the engine plate wasn't square with the frame, the pin for the fork on the drum brake had to be cut down because collided with the sprocket, and the head tube for the fork had distorted from welding and I had to ream it out just to get the bolt through. Weld spatter and burrs are not a big deal but the structural problems were disappointing. I made it work though.
The design theme is a tribute to my father. I have never known anyone who is such a hard core DIYer as my Dad, except for his father, and my younger brother. From cars to houses to furniture and art projects. Dad just goes for it. Actually, my Mom is the same way. So I got the "do it" gene from both sides.
Various custom touches are detailed below. This video also lets you hear how the Predator engine with a straight header sounds. No wheelies were performed in this video. But this little scooter will pull the wheel up with ease. The first time I rode it the front wheel was a foot in the air before I noticed. Hang on.
Left side view shows off the clutch cover I made. Also, I blacked out the drum brake (and foot peg clips) to help break up all the silver at the rear wheel.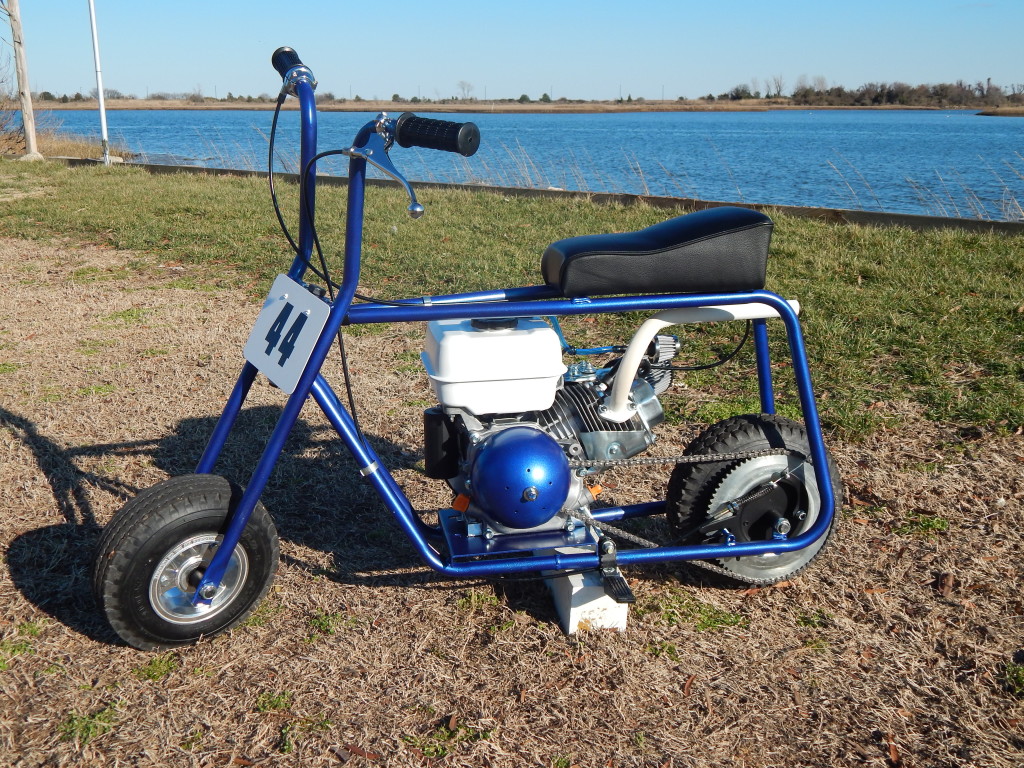 I used an old lamp to make the clutch cover. I've been hanging on to this old floor lamp I got from a neighbor YEARS ago. Obviously I was never going to get around to restoring it. Mini bike calling…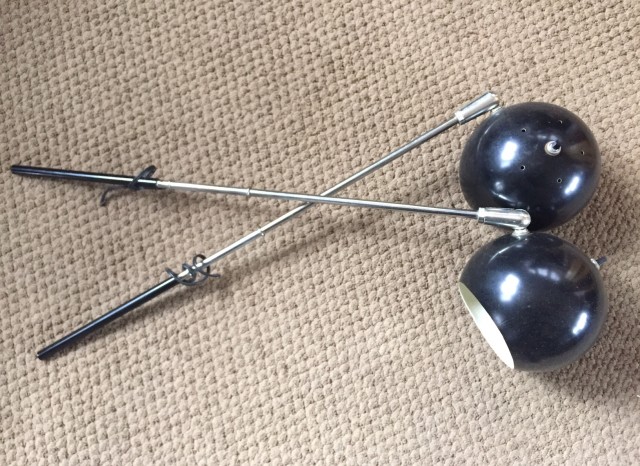 I sectioned about an inch out of the lamp ball and then notched it for the chain. I already had one of the common cheap chrome clutch guards so I modified that by chopping it down the corners so I could use it as a bracket. I then bent some flat bar to make an arm to hold the ball. It's pretty solid and doesn't vibrate or shake. As far as repurposing objects I've definitely been inspired by the work of Jeep2003 on Youtube, and the OMB forums.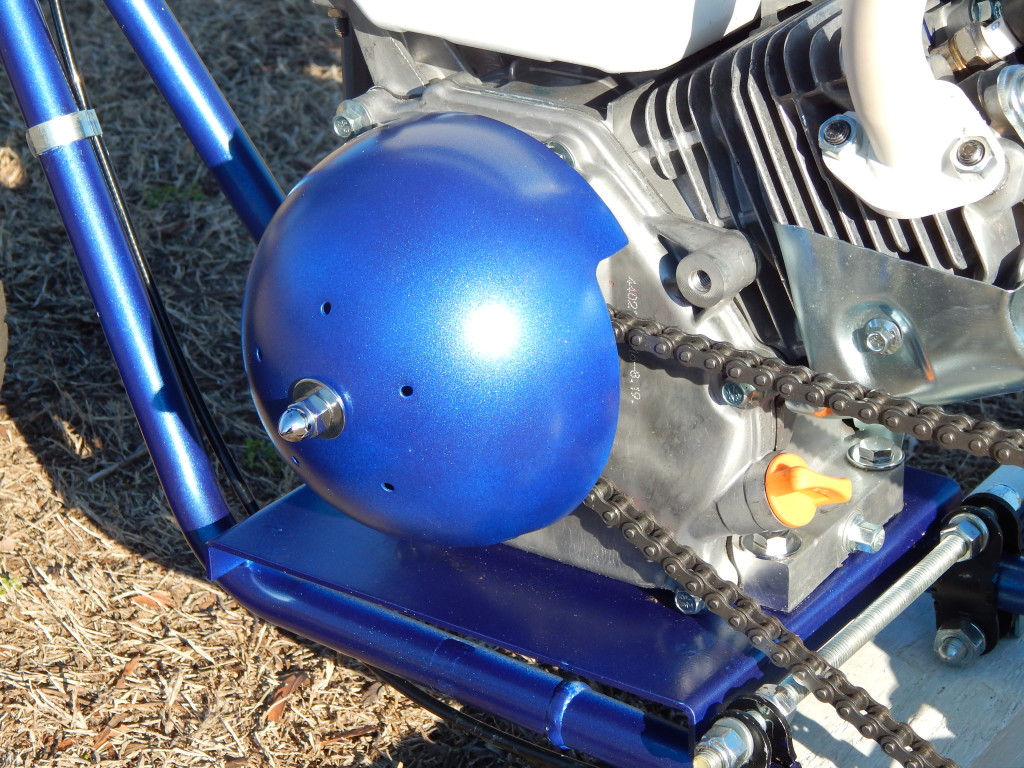 I think the bulbous clutch cover helps to visually balance out the offset of the Predator engine.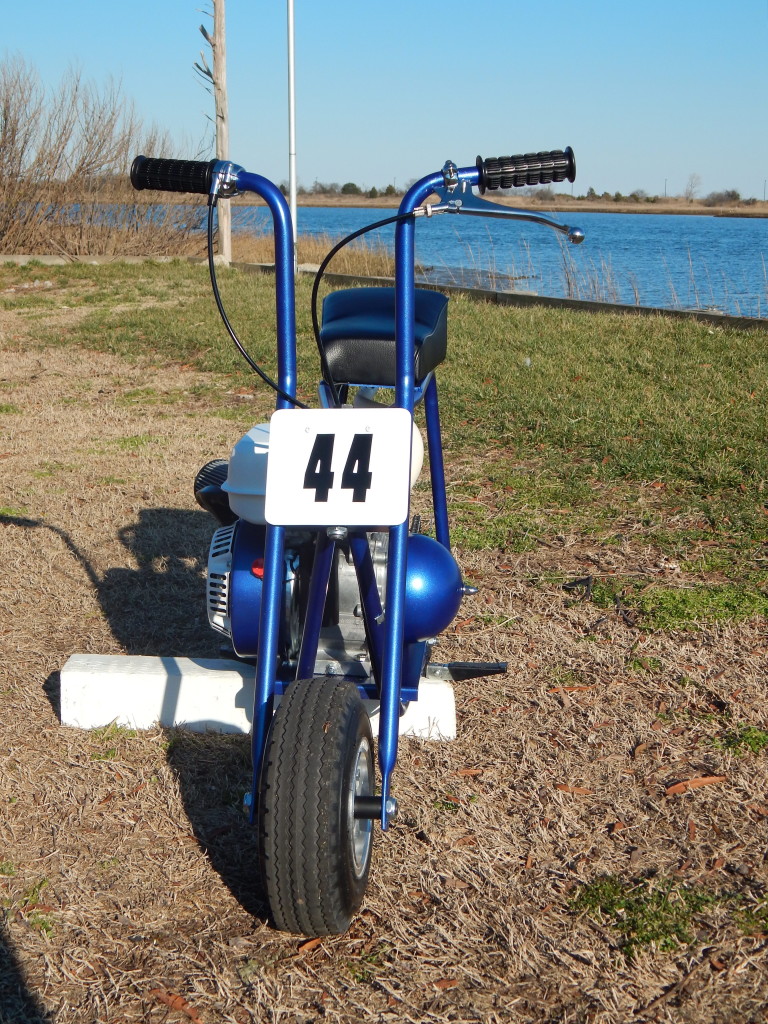 This Predator engine is pretty ugly overall. I tried to fix that some by painting various parts, but that still left the big plastic air filter box. I thought about modifying that but eventually went the easy route with a filter upgrade, which also meant rejetting the carb and upgrading the emulsion tube. The gas tank and valve cover both vent to the stock filter box. Reading the forums at OldMiniBikes.com I saw that guys with a similar set up used a small breather filter to address this. I put a tee fitting into the original hose from the valve cover so I could also use it to vent the gas tank. I cut the hoses in a way that would position it straight back so it looked tidy.
Because the exhaust is visible here I'll mention that I sprayed that with VHT White and it's holding up great. I've always loved white headers from the 1960s drag cars and some hot rods.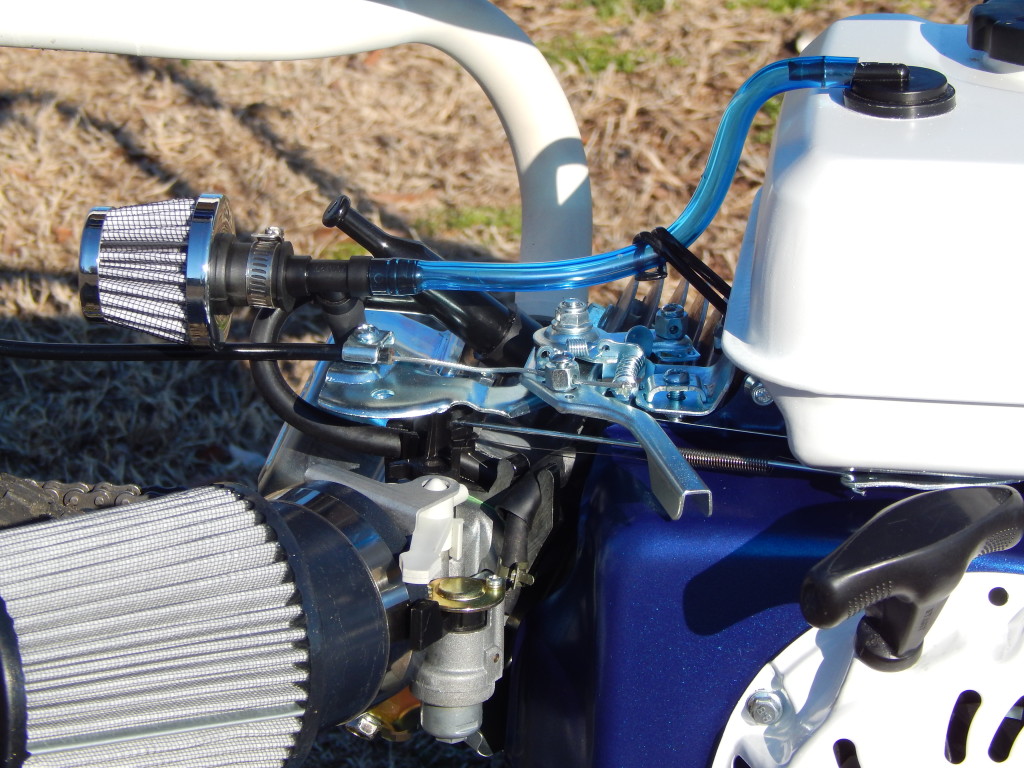 Dad had a Gulf service station in the early 1970s. The young mechanic in this photo is a guy that worked for my father.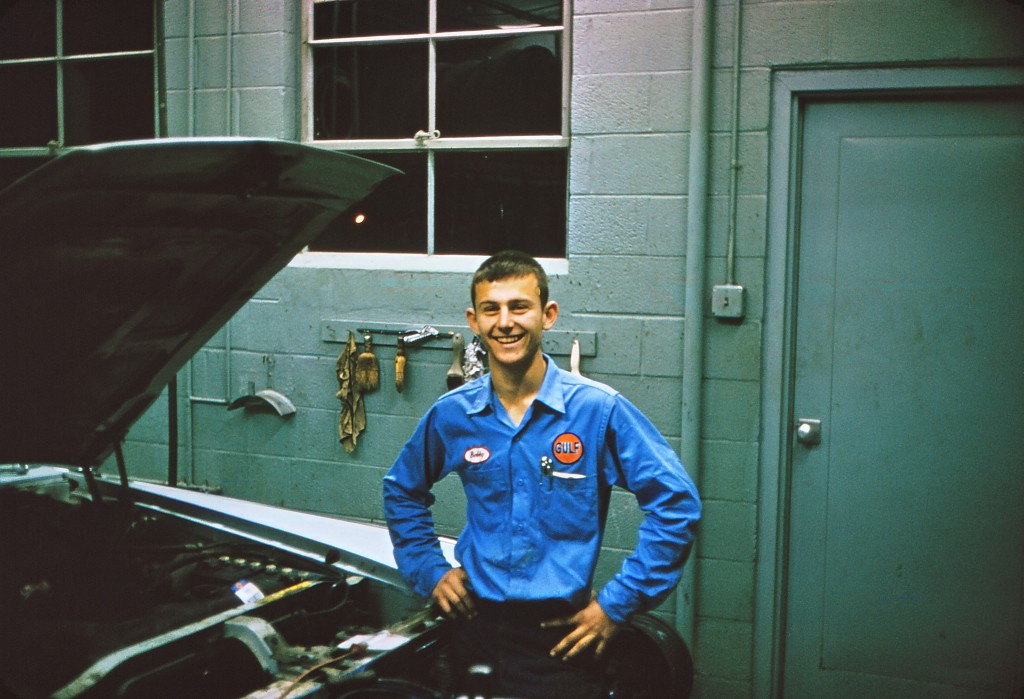 So I had to add a Gulf sticker to the starter cover. I found it on eBay. Originally I thought about going with the classic Gulf racing livery of light blue and orange. I love that, but I also see a lot on project cars. Plus, this medium blue metallic was calling my name at the hardware store.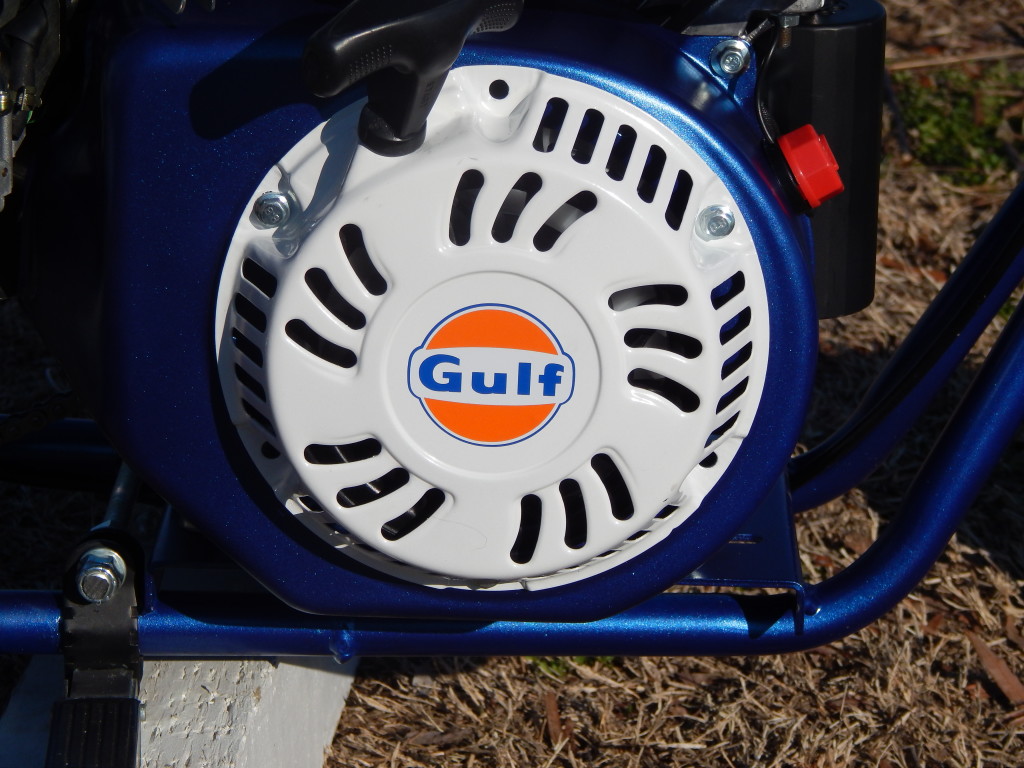 The foot pegs with Azusa mini bike kit, in my experience, don't work well. I had them tight enough that the clips were deformed and they still couldn't take much weight without slipping. I got a piece of all-thread to replace the bolts, and used locknuts on both sides of the clips. Problem solved.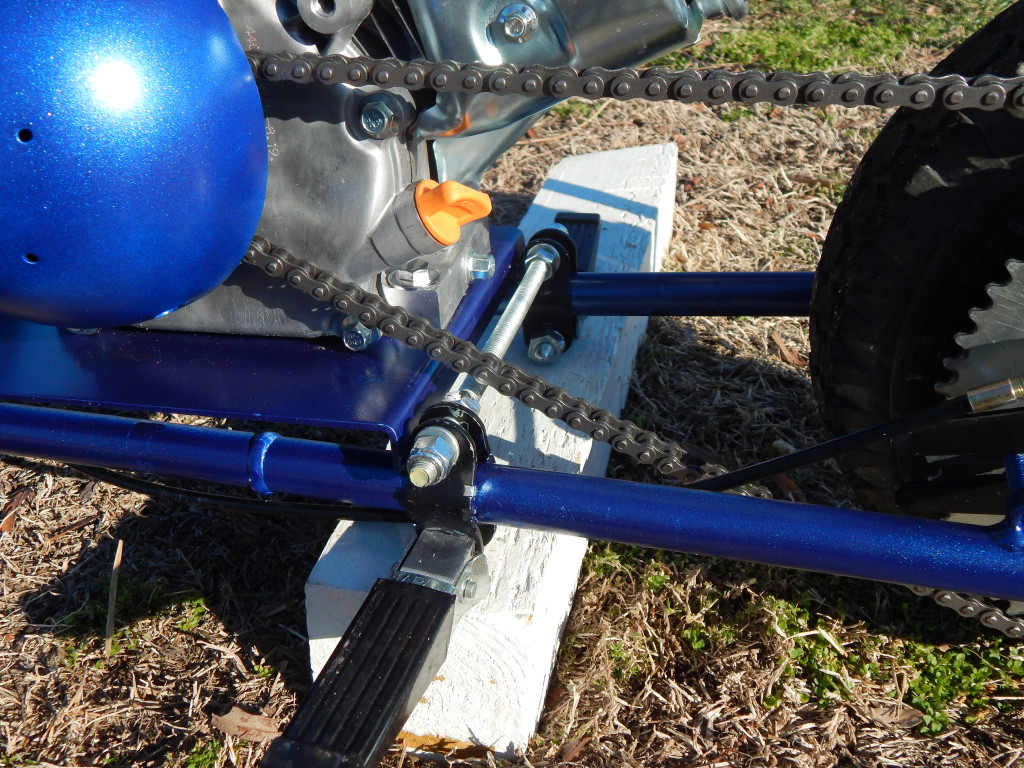 The Azusa frame and fork bang into each when you turn full lock. I made some handlebar bumpers from 7/8″ plastic furniture feet. I cut out the bottom, leaving a plastic ring. Then I cut that into and attached it to the frame with some strong double stick tape. Seems to be holding up.
Also, I tried routing the cables a number of ways but this ending working the best. I adjusted things so the cables don't rub the paint off or kink up. Without a number plate going through that space would be a good option.
I knew I wanted a number plate with "44" because that's the year my Dad was born. At first I thought I would use a vintage BMX plate but they are just too big. I made this one with a piece of steel sheet metal, some small angle brackets, and polished allen bolts up top. I radiused the corners to match the diameter of the frame tubes, you know, so it flows. Finding cool looking numbers was not easy. I was on the verge of making my own when I found these boat numbers. They're not as funky as I wanted but I think they have a little flavor.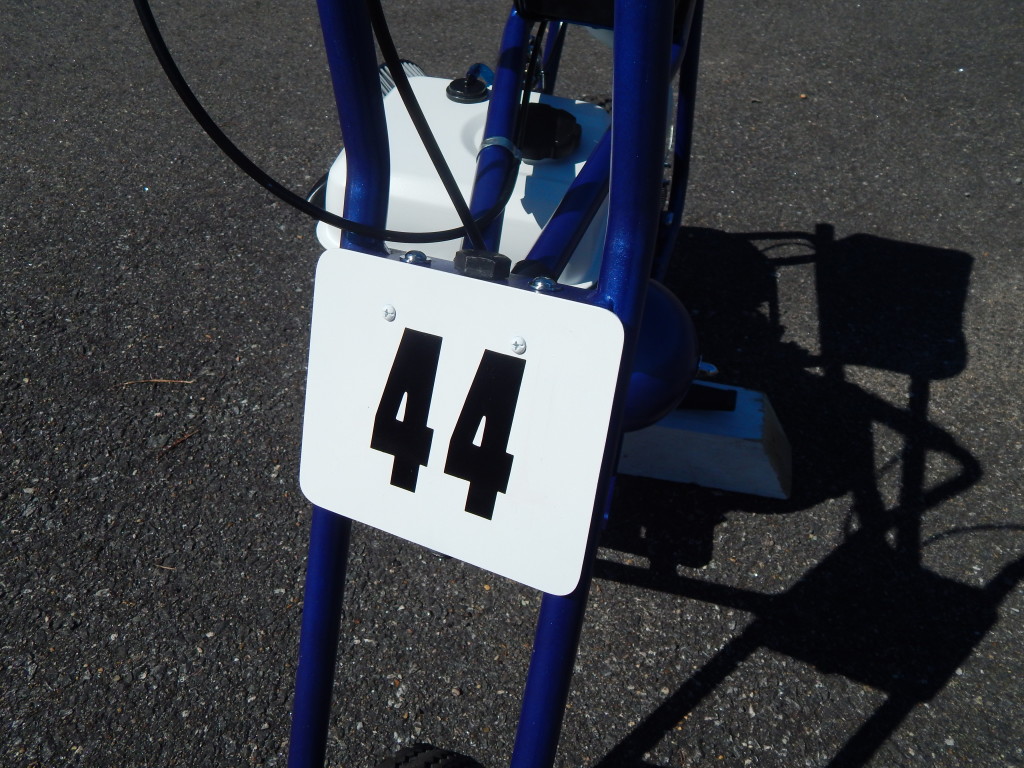 The low oil sensor and some other wires hanging off the front of the Predator 212 engine are an eyesore. I found an old plastic soccer ball pump in the attic and decided it now had a higher calling. I chopped off a third of it, got rid of the plunger and needle, cut a slot up the back, and hung it on small aluminum bracket I fabbed up.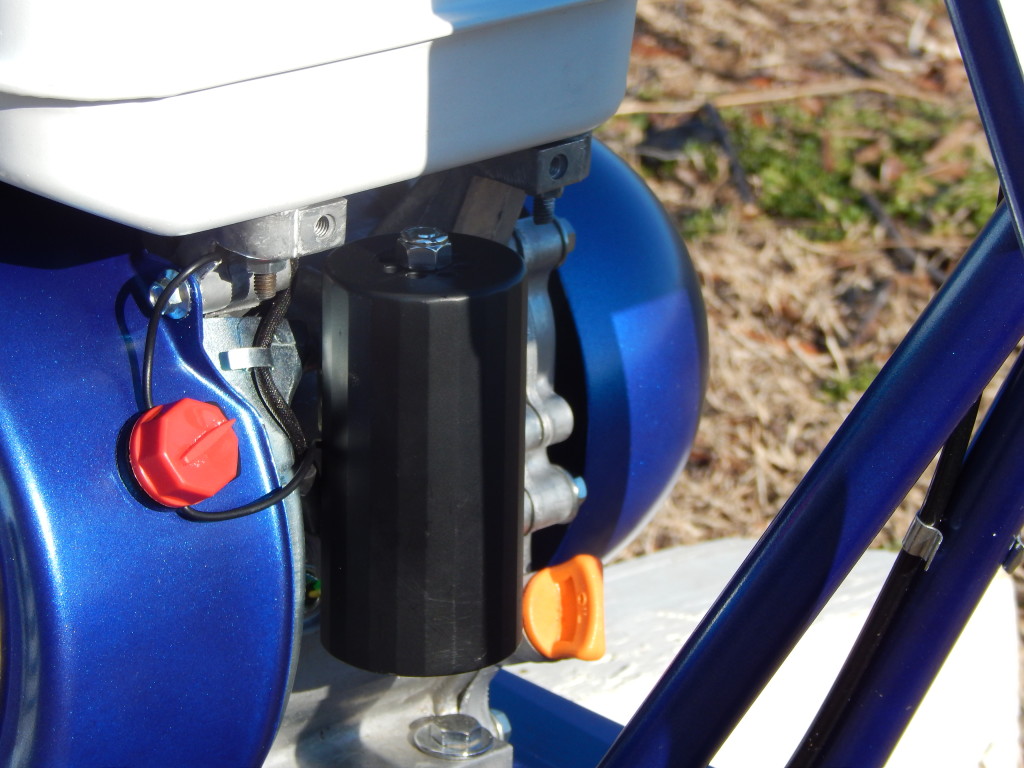 Dad and me in his 1958 MGA. This was a good day. We've had a lot of them. If I'm a resourceful person at all, Dad is the major reason for that. There were no lessons, just leading by example. I hope I've done the same for my kids.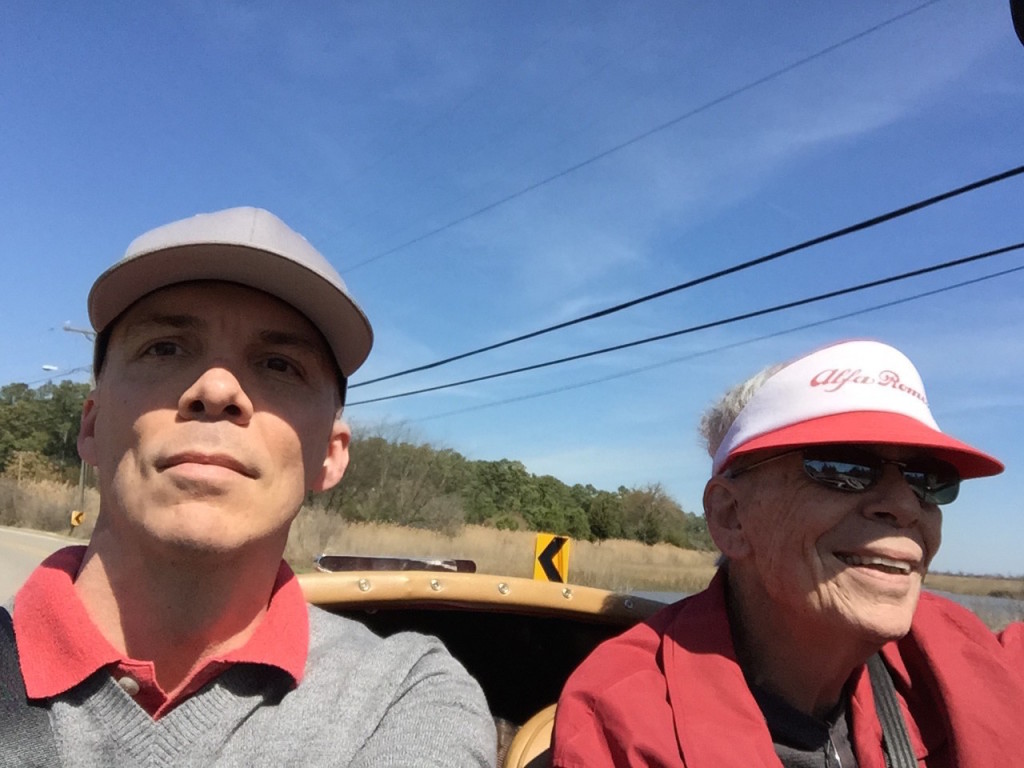 Thanks for reading.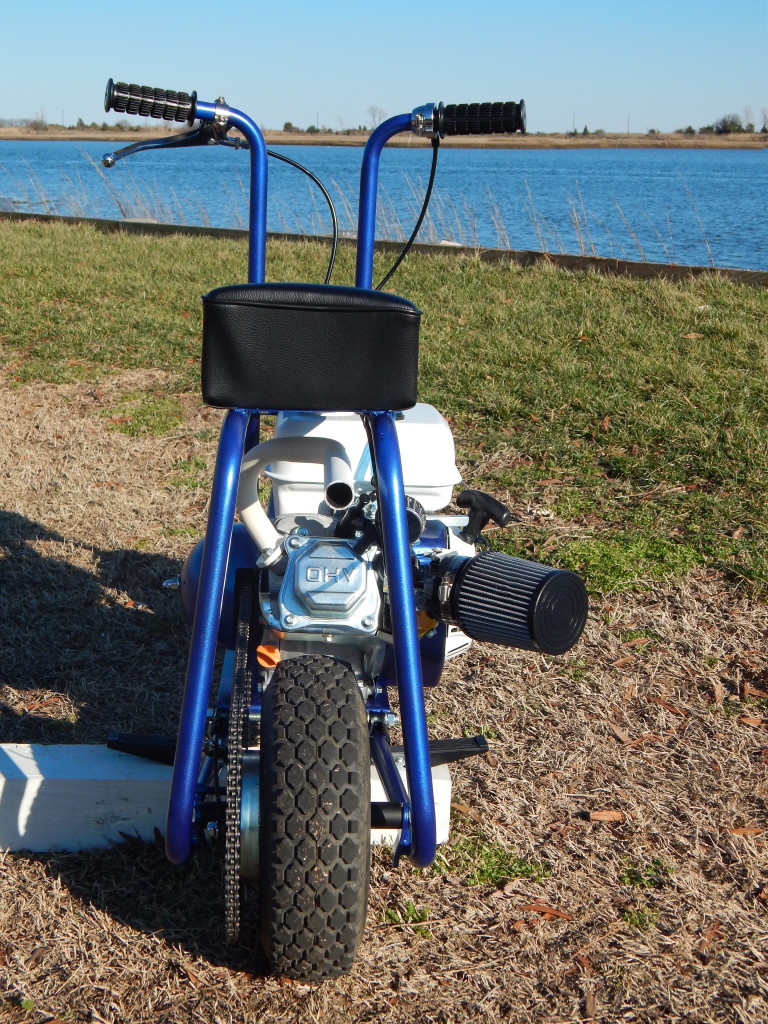 ---